Living abroad – A Canadian's guide to working, studying, volunteering or retiring in a foreign country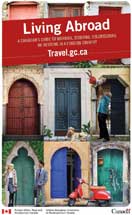 Introduction
The world beyond our borders is home to about three million Canadians. Like you, they each have their own reasons for choosing to live in a foreign land, whether to work, study, volunteer, retire or pursue other opportunities. Residing abroad – either permanently or temporarily – can be a rich and rewarding experience.
It can also be challenging, particularly if you move to another country based on a dream, without considering the risks and responsibilities. The decision to leave familiar surroundings and adapt to another social and cultural environment should not be taken lightly. It requires thorough research, knowledge and planning. The better prepared you are before leaving Canada, the better your experience abroad will be.
The Government of Canada assists thousands of Canadians residing in foreign countries each year. With more than 260 offices in 150 countries worldwide – plus an Emergency Watch and Response Centre in Ottawa – we're at your service 24 hours a day, seven days a week. While there are limits to the help we can give you, we offer a vast range of consular services, from replacing lost passports and sharing information on local laws to lending support during natural disasters and medical emergencies.
We're well aware of the challenges you'll face while living abroad. That's why we've developed this booklet to help you:
inform and prepare yourself before leaving Canada;
take care of yourself and your loved ones while abroad;
know what to do if things don't work out as expected; and
plan for your eventual return.
Questions about foreign travel?
Is it safe to go there?
Could I get sick?
Who can I contact for emergency help?
Can the Government of Canada get me out of a foreign jail?
What should I do if I lose my passport?
Do I have to pay taxes on foreign income?
What can I bring back to Canada?
Answers: Travel.gc.ca
We urge you to read this booklet as well as our main publication, Bon voyage, but… essential information for Canadian travellers. Also be sure to visit Travel.gc.ca – your official source of information on international travel. And have a safe, healthy and happy stay abroad!
Before leaving Canada
Complete a risk assessment
It's important to consider not only the rewards but also the risks of relocating abroad. Be sure to complete a risk assessment of each possible host country in order to identify a safe and suitable destination. If you're daunted by the perils and inconveniences of a particular destination, then rule it out.
A risk assessment will pinpoint concerns you should be aware of, such as safety and security, health conditions and the political, economic, cultural and natural environment, as well as precautions you can take. For example:
Some countries experience continuing wars, insurgencies and civil unrest.
Others are subject to extreme temperatures and natural disasters, such as typhoons, earthquakes and volcanic eruptions.
The pace of life may be very different from what you're used to, affecting your work habits and well-being.
Safe and comfortable housing may be scarce or prohibitively expensive.
There may be no wheelchair access or allowances for people with hearing, sight or other special needs.
The consumption of alcohol may be illegal, or persons convicted of drug-related offences may face capital punishment.
Children may be tried, convicted and incarcerated as adults for their crimes.
To carry out a risk assessment:
Start by consulting the Travel Advice and Advisories for your prospective host country to see if an official Government of Canada Travel Advisory is in effect and to obtain information on safety and security, local laws and customs, health conditions and entry requirements.
Visit our Travel health and safety page and the World Health Organization's website for country-specific information on health conditions and standards of medical care.
Get weather and climate information on countries worldwide on the World Weather Information Service website.
Supplement these resources with guidebooks, newsletters, magazines and websites for expatriates. They offer insight into the health, safety, cultural and emotional issues experienced by Canadians living abroad.
Read up, register, reach us
The Government of Canada encourages Canadians to follow the Three Rs of international travel:
Read up on safety and security, local laws and customs, entry requirements, health conditions and other key travel topics by consulting our Travel Advice and Advisories.
Register with us through the Registration of Canadians Abroad service before leaving Canada, so we can contact and assist you in an emergency abroad, such as a hurricane or civil unrest, or inform you about an emergency at home.
Reach us at our Emergency Watch and Response Centre in Ottawa for urgent assistance while abroad.
Carefully evaluate opportunities abroad
A wide range of work, study, volunteer and retirement opportunities can be found outside Canada. To ensure a successful experience abroad, be sure to thoroughly evaluate any opportunity before moving forward:
Beware of international fraud. Steer clear of overseas recruitment agencies that operate solely by email or telephone and organizations that charge placement fees. Bogus groups offering international education opportunities have cheated students out of large sums of money under the pretext of securing admissions, financial aid and study permits. Likewise, phony volunteer placement agencies have charged unsuspecting recruits for opportunities that never pan out. And there's no lack of international scammers who target retirees with empty promises of romance, friendship and financial rewards in faraway lands.
If you're a woman, be especially wary of offers that sound too good to be true. Beware of the danger of getting trapped into sex or labour trafficking. Criminals often recruit foreign women through fraudulent ads to work as hostesses, models, entertainers, nannies, maids or in other seemingly legitimate jobs.
Find out everything you can about any agency that's offering you an opportunity abroad. Ask for references, visit its website and call your local Better Business Bureau (if the organization is Canadian). Contact others who've worked for the organization or speak to someone currently employed there.
Never accept a job overseas if the details won't be spelled out until you arrive. Examine the terms of your contract carefully and have it reviewed by a lawyer if possible. Verify the conditions to break your contract if things don't work out.
Make sure you fully understand the financial conditions of any job offer. Know when you'll receive your first paycheque and in what currency you'll be paid. Receiving your salary in Canadian or U.S. dollars could prevent problems caused by exchange rate fluctuations. If you'll be paid in the local currency, find out if it's convertible and if there are restrictions on taking funds out of the country. Check if your employer will cover expenses, such as airfares, residency permits, language training, school tuition, and health and dental insurance (including coverage for family members).
If your contract provides for accommodations, ask for photos or a detailed description, floor plan and furniture inventory in advance. "Western" and "furnished" have different meanings in different countries. Ask about the neighbourhood and local transport. Check whether you'll be sharing accommodations with someone else.
Note that, while some employers and volunteer agencies may promise to pay for your return flight to Canada upon completion of a contract, this commitment will not necessarily be honoured. It's best to request an open-ended return ticket in advance.
Are you ready for a cross-cultural move?
Many Canadians who live abroad for the first time are surprised at the cultural isolation they experience, making the transition even more stressful. Before you leave Canada, make an effort to understand the social environment where you'll be living. Are you at ease with stark cultural differences? Are you prepared to be in a minority and to be treated as a foreigner? Do you make new friends easily? Are you open to different ways of doing things? Can you handle a much slower – or faster – pace of life?
International Experience Canada
Young Canadians can choose from thousands of opportunities to travel and work in foreign countries. These programs are made possible through reciprocal arrangements negotiated with host countries. Participants aged 18 to 35 can enjoy the many benefits of living and working abroad, while gaining valuable global experience and skills.
For more information, call 1-877-461-2346 or visit International Experience Canada.
A little planning goes a long way
Forward thinking is the key to a safe and successful stay abroad. The following steps will help you pull the pieces together before leaving Canada.
Read our safe-travel booklet Bon voyage, but… essential information for Canadian travellers, which offers the knowledge and advice you need to travel responsibly and with confidence, while avoiding the pitfalls you could experience in foreign countries. It also outlines consular services available to you around the world.
Ensure that you and all accompanying family members have a Canadian passport that's valid for at least six months beyond your intended return to Canada. Obtain any work, study, volunteer, visitor or other visas required by your host country well in advance. Know the terms of each visa, as you could be arrested for violating visa conditions in some countries. See Moving abroad with children and Required travel documents for more information.
Leave copies of important travel documents with family or friends in Canada in case of loss or theft. Scan these documents, if possible, and send them to yourself at an email address you can access anywhere.
Make sure you have travel health insurance that covers all medical expenses for illness or injury (including hospitalization abroad and medical evacuation), plus insurance for loss or theft of valuables, damage to baggage, and flight cancellations or interruptions.
Sign up for the Registration of Canadians Abroad service, so that the Government of Canada can contact and assist you in case of an emergency. Once you've registered, remember to keep your account up to date.
Carry an Emergency contact card with the coordinates of the nearest Canadian government office in your host country, in case you have problems while abroad.
Arrange in advance for safe accommodations in your host country. Suitable housing may be scarce and expensive in locations with low vacancy rates, and you may have to book through an agency. If you can't find long-term lodgings beforehand, at least make plans for temporary housing. Before paying a deposit for student housing or other lodgings advertised online, be sure to confirm that the address exists. See A roof over your head for further advice.
Find out well in advance what you're allowed to take with you. Keep in mind that most countries have stringent import controls. Obtain any necessary adapters for electrical appliances you intend to bring. If you're bringing valuable items, take advantage of a free service offered by Canada Border Services Agency (CBSA) offices to identify items with serial numbers or other unique markings. The CBSA can apply a sticker to other items so they can be identified for customs purposes upon your return to Canada.
If you're taking a pet overseas, contact the embassy or consulate of your host country to obtain information on all requirements. Your pet will need a detailed health certificate and may require an import permit. It may also need to undergo a quarantine period before entering the country.
Make sure your mail is moving with you. Submit a change of address request to Canada Post and inform all your contacts of your new address.
Make a will before you leave Canada. If the worst happens, it will reduce the complications associated with a death abroad. Consider making two wills – one for Canada and one for the host country – since different legislation will apply.
Registration of Canadians Abroad
A free service that could save your life
If you'll be travelling or living abroad, sign up for the Registration of Canadians Abroad service. Registration enables us to reach you in case of an emergency abroad, such as an earthquake or civil unrest, or inform you about an emergency at home.
Sign up online, by mail, by fax or in person. For more information, visit our Registration of Canadians Abroad page or call 1-800-267-6788 (in Canada and the U.S.) or 613-944-6788.
*Information obtained through registration is confidential and is used in accordance with the provisions of Canada's Privacy Act.
Dual citizenship – blessing or burden?
You're allowed by Canadian law to have more than one nationality. Having dual or multiple citizenships can offer advantages, including employment opportunities, unrestricted residency, property ownership, and entitlement to education, health care, pensions and other social programs abroad.
There are also disadvantages. Your Canadian citizenship may not be recognized in the country of your other nationality, whose authorities may prevent Canada from providing you with consular assistance. This situation is especially likely if you enter that country as one of its citizens, rather than using your Canadian passport. As a citizen, you may be subject to laws that would not apply to a foreigner, compelled to do military service, required to pay taxes, liable for reimbursing educational costs or subject to heightened scrutiny by immigration and security officials. Being a citizen of another country doesn't necessarily mean you can work there. You may not meet the residency requirements. Or you may have lost your citizenship status when you became Canadian. Dual citizenship can also cause problems in a third country if there's confusion over which citizenship you used to gain entry.
Temporary versus permanent residency
Most Canadians who intend to live abroad for a temporary study period, volunteer service or seasonal retirement will choose to maintain their Canadian residency. Those who don't plan to return regularly to Canada, and who can obtain sufficient health-care protection abroad, may opt for permanent residency – or even citizenship – in their host country. Doing so means establishing legal status in the other country, which entails a variety of conditions, requirements and obligations well beyond those of a tourist or visitor. It could also have serious consequences. For example, Canadian consular officials may be unable to assist you if you run into problems in a foreign country where you have legal status.
You can minimize the risks of living in the country of your other nationality by taking these steps:
Confirm your citizenship status – and that of accompanying family members – and address your concerns to appropriate officials of the country in question through its embassy or consulate in Canada.
Find out if you have obligations to that country, such as taxes, military service or repayment of educational costs. Ask for written confirmation.
If permitted by the laws of the other country, use your Canadian passport to gain entry and present yourself as a Canadian citizen to local authorities.
Contact the nearest Canadian embassy or consulate immediately if you run into problems associated with dual citizenship.
For more information, see Travelling as a dual citizen.
Did you know...?
You cannot use a Certificate of Canadian Citizenship instead of a Canadian passport to travel abroad. A Certificate of Canadian Citizenship is not a travel document. A Canadian passport is the only reliable and universally accepted travel and identification document available to Canadians for the purpose of international travel. Canadian citizens returning to Canada who present other documents, such as a Certificate of Canadian Citizenship, birth certificate, provincial driver's licence or foreign passport, instead of a Canadian passport, may face delays or be denied boarding by transport companies.
Your health on the move
No matter where in the world you live, your health is your highest priority. Be sure to plan for long-term health needs before leaving Canada.
The Public Health Agency of Canada (PHAC) recommends that you and each family member visit a travel health clinic or your health-care provider – preferably six weeks before departure – for a health assessment. This examination will determine your need for immunizations, preventive medication and any precautions to help avoid disease while abroad. A health assessment could also include check-ups with a dentist and optometrist, as well as a psychological evaluation to help prepare for life in a new environment.
Consular assistance is available 24 hours a day, seven days a week. If you run into problems while living abroad:
Vaccinations
Living in a foreign country could expose you and accompanying family members to infectious diseases that are rarely, if ever, seen in Canada. Based on your current health status, immunization history and anticipated itinerary, a health-care provider can assess your individual health risks and advise you on vaccination requirements, your need for preventive medication (e.g., for malaria) and personal protective measures.
Make sure your routine immunizations – tetanus, diphtheria, whooping cough (pertussis), polio, measles, mumps and rubella – are up to date. Proof of yellow fever vaccination in the past 10 years and an International Certificate of Vaccination or Prophylaxis may be required to enter some countries. Be aware that some vaccinations and preventive medications can take time to become effective.
If you're moving abroad with infants or children, you may need to arrange an alternative or accelerated childhood immunization schedule for them. Consult your pediatrician, family doctor or travel health practitioner. For more information, visit our Travel health and safety page.
Medication
If you take medication, pack an extra supply – or arrange for refills – since you'll be abroad for an extended period. Carry a duplicate of your prescription, showing the product's generic and trade names, in case your medication is stolen or lost. Also keep any optical prescriptions on hand for easier replacement of eyeglasses or contacts.
Never try to save luggage space by combining medications in one container. Keep all medications in their original, labelled containers to avoid customs problems.
Some medications sold over the counter in Canada are illegal or require a prescription in other countries. Find out whether your medication is legal in your host country. Obtain a note from your doctor stating the medical reasons for your prescription and the recommended dosage.
If you need syringes for a medical condition or an autoinjector for life-threatening allergies, it's important to take along adequate supplies or to have a plan to replenish them. Also carry a medical certificate confirming that these items are for medical use.
If you have a pre-existing medical condition or allergies that could flare up while you're abroad, consider wearing a MedicAlert® bracelet or necklace, which will be linked to your medical records and make them accessible 24 hours a day from anywhere in the world.
STI prevention
Carry a supply of condoms to protect yourself from sexually transmitted infections and to guard against unwanted pregnancy, even if you don't expect to meet a new partner abroad. Condoms may not be available in your destination country or may not meet the safety standards set by the World Health Organization. For more information, see our Sexually transmitted infections (STI) page.
Well on your way.
Would you like to learn more about protecting your health while abroad? Our publication "Well on your way" offers valuable advice on how to:
assess travel health risks;
take preventive measures before, during and after international travel;
choose an appropriate travel health insurance plan;
cope with a health emergency abroad; and
obtain consular services in the event of a medical emergency.
To order your booklet today, call 1-800-267-8376 (in Canada) or 613-944-4000, or download a copy.
Pregnancy and birth
If you'll be pregnant while living abroad or expect to give birth in a foreign country, be sure to see your doctor before leaving Canada. Make sure your supplementary health insurance covers pregnancy-related conditions, pre-term and full-term birth and neonatal care. Try to avoid malarial zones, as expectant mothers are particularly vulnerable to the illness, which could put their pregnancy at risk. If you're going to give birth outside Canada, identify beforehand a local hospital or birthing facility that's up to Canadian standards, if possible. For information on the citizenship of children born to Canadian parents abroad, see Canadian birthright.
More information on travelling while pregnant can be found on our Travelling while pregnant page and in our booklet Her own way: a woman's safe-travel guide.
Accessibility for disabled travellers
Many countries don't provide specific access for people in wheelchairs or assist those with hearing, sight or other physical requirements. You may need to make special arrangements abroad to obtain the services you'd normally expect in Canada. For country-specific information on accessibility for disabled travellers, consult the website of Disabled Peoples' International.
Holders of disabled parking permits in Canada may use them in member or associate member countries of the International Transport Forum (ITF). Be sure to check with local authorities to confirm your entitlement. Parking permits for disabled Canadians are rarely recognized in non-ITF countries. For details, see the ITF website.
Further information on government services for disabled travellers, meeting special needs, parking privileges and travelling with a service animal is available on our Travelling with disabilities page.
Purchase the best insurance you can afford
Don't expect your provincial or territorial health plan to cover the costs if you get sick or are injured while living abroad. Out-of-country medical bills can be steep and result in a heavy financial burden. There's nothing worse than being ill in a foreign country while worrying about spiralling medical costs. Your provincial or territorial health plan will cover only part, if any, of medical expenses outside Canada and will not pay up front. Furthermore, it will become invalid if you live elsewhere beyond a certain length of time – generally six to eight months, depending on your province or territory. For more information, contact your regional health authority.
No matter how long you'll be living abroad, be sure to purchase the best health insurance you can afford. It's one of the most important investments you can make as an expatriate. Make sure you understand the terms of your policy. It should cover your personal health needs and those of any dependants. If you'll be working in your destination country, check whether your employer will provide health insurance that meets your requirements.
Always carry proof of your insurance while abroad, along with contact information for your insurer. Leave a copy with a friend or relative in Canada. If you pay for your own medical care, obtain a detailed invoice from the doctor or hospital in order to make a claim later. Most insurers will not accept copies or faxes.
Supplemental insurance versus replacement insurance
Two types of private health-care insurance are available to expatriates. Supplemental insurance provides added benefits to those covered by a provincial or territorial plan. Replacement insurance provides full coverage for those who stay abroad long enough to become ineligible for a Canadian plan.
Full replacement insurance is less readily available than supplemental insurance, but a number of companies do provide insurance specifically designed for expatriates. When considering replacement insurance, carefully assess your own situation, taking into account your age, pre-existing medical conditions and potential needs in the event of a major or long-term illness. Be sure to arrange for replacement insurance before leaving Canada and check that the policy is valid in the country where you plan to stay.