Teaching English in Taiwan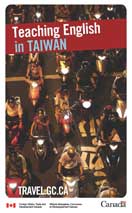 Introduction
Teachers of English as a Second Language (ESL) are in demand in Taiwan. Most English teachers work in private English "cram" schools (buxiban). For ESL job ads, look in the classified sections of the two local English newspapers: the China Post, and the Taipei Times. ESL departments exist within the Mandarin training centres of major universities, such as the National Taiwan University, the National Normal University in Taipei, the Tunghai University in Taichung and the National Sun Yat-Sen University in Kaohsiung. Also search the Internet for information about teaching English and living in Taiwan.
See the latest Travel Advice and Advisories for Taiwan for information on safety and security, local laws and customs, entry requirements, health conditions, and other important travel issues.
To work legally in Taiwan you must have a resident visa that specifically states you are permitted to accept employment. (See "Visa matters.")

The currency in Taiwan is the new Taiwan dollar (NTD). For the current exchange rate, visit the Bank of Canada website.

The Canadian Trade Office in Taipei provides consular assistance and information to Canadians travelling and living in Taiwan. However, the trade office cannot become involved in contractual conflicts experienced by Canadian citizens. They cannot provide legal representation or mediate in such situations. Nor can they investigate, certify or vouch for prospective employers. It is up to you to evaluate any employment offer before signing a contract.

For inquiries related to consular, passport, notarial, citizenship and other services, contact the Consular Section of the Canadian Trade Office in Taipei:

6F, Hua-Hsin (Citibank Building), No. 1 SongZhi Road, Xinyi District, Taipei 11047, Taiwan
Tel.: 886 (2) 8723-3000
Fax: 886 (2) 8723-3590
Email: tapei-cs@international.gc.ca
Internet: www.canada.org.tw

Office hours: Monday to Thursday, 8:15 a.m. to 5:00 p.m.; Friday 8:15 a.m. to 12:45 p.m.
Consular service hours: Monday to Friday, 9:00 a.m. to 11:30 a.m.
Nearest subway station: Taipei City Hall (Blue Line)

For emergency assistance after hours, call the Canadian Trade Office in Taipei and follow the recorded instructions. You may also call the Emergency Watch and Response Centre in Ottawa toll-free at 00-800-2326-6831 or collect at 613-996-8885.
Calling Taiwan

If you are calling…

From…

Then you must dial…

For example…

Taiwan

another country (including Canada)

international long distance code +
country code +
area/city code +
telephone number

if you are in Canada and want to speak to the Canadian Trade Office in Taipei, you must dial:
011-886-2-8723-3000

within Taiwan

Taiwan

two digit city code +
telephone number

if you are in Kaohsiung and want to speak to the Canadian Trade Office in Taipei, you must dial:
02-8723-3000
Consular Services also offers a range of other free publications, including Bon Voyage, But… Essential Information for Canadian Travellers and Well on Your Way: A Canadian's Guide to Healthy Travel Abroad. Call 1-800-267-8376 (in Canada) or 613-944-4000 to order print versions, or order or download copies online.
Types of English language schools
Most English instructors teach in private English "cram" schools (in Mandarin, buxibans - pronounced boo-she-ban). These provide courses at every level, from elementary school to university. Aside from buxibans, ESL teachers may be hired by private schools and private companies and do in-home tutoring.
Buxibans are located throughout Taiwan and vary greatly in size. Smaller schools have a more personal approach but they may be less stable than the larger ones and don't always offer their teachers a work permit.
Hiring criteria also vary. Some Buxibans will employ non-native English-speakers, while others insist on native English speakers, preferably with North American accents.
A typical full-time employee can expect to teach 15 to 25 hours per week. Employers must grant employees a minimum of 14 teaching hours and a maximum of 36 teaching hours per week. The work is physically demanding, especially classes for younger children, and teachers must spend additional hours planning sessions.
Elementary and kindergarten buxibans
Most schools offering classes at the elementary or kindergarten level do not require native English speakers to have previous teaching experience or ESL certification. Managers usually look for commitment, determination and enthusiasm in candidates. Full-time employees work on average 15 to 25 hours a week.

English classes emphasize conversation, and most classes have between 5 and 25 students. Students can be as young as two years old, so "teaching English" can sometimes amount to basic childcare. Some schools may provide the help of a Taiwanese teacher to maintain discipline. Most schools insist that classes be conducted entirely in English.

Some schools prescribe the course of study and teaching approach; others don't even have books available. When considering a job, check what educational materials the educational facility provides.
High school and university buxibans
Teaching positions are less widely available in high schools and universities than in schools catering to young children. Introducing yourself directly to principals, deans and professors in English departments may help in finding work opportunities. Classes include up to 25 students and are usually held in the late afternoon or early evening. The number of hours worked is similar to what is expected at elementary-level buxibans (15 to 25 hours a week), although the salary is slightly higher. Whether materials and books are provided depends on the individual institution. Unlike the mainly oral teaching at the kindergarten and elementary school level, high school and university classes offer a mix of conversation, reading, listening and writing activities in a more formal structure.

There are also several large buxibans where students prepare for university entrance exams and for the TOEFL (Test of English as a Foreign Language) exam. Most overseas institutions require non-native English-speaking applicants to take the TOEFL in order to evaluate English proficiency. Teaching positions in these types of organization are harder to find, but salaries are often higher. These buxibans usually require their teachers to have at least a bachelor's degree, preferably in education, complemented with some teaching experience. Classes may have more than 100 students and concentrate on grammar. Teachers may be required to give brief explanations in Mandarin. Significant preparation time is required for these classes.
University English night classes
The university year consists of two semesters starting in September and late January. Universities now require ESL teachers to have a degree (if possible, a master's) in education, and preferably some teaching experience. The classes offered are for students, as well as businesspeople who are considering overseas assignments or trying to improve their English skills. Expectations of ESL teachers at this level are high; the students are keen to learn and have usually paid for the classes themselves.
Private companies
Some companies sponsor English classes for their staff, either during or after work hours. Most companies do not have specific hiring criteria, although they may ask for a resume to submit to their budgeting department. The pay depends on the size of the company. Some companies expect their staff to achieve a certain level of English proficiency and may ask applicants for teaching positions to write an exam. Other companies stress conversational skills and require little preparation time for classes.
Private junior, middle and elementary schools
In early 2000, an amendment to the Employment Service Law allowed private junior, middle and elementary schools to hire foreign teachers. For more information on hiring possibilities and procedures, contact the Taipei American School, the Taipei European School, or the Morrison Academy in Taipei, Taichung or Kaohsiung.
In-home tutoring
Some ESL teachers work at institutions other than the one that sponsored them or teach privately. Be forewarned: According to Taiwanese law, teaching at an institution other than the one that sponsored you – or teaching privately – is illegal.
Other options
Language teaching is unquestionably the most popular way for English-speaking foreigners to find work in Taiwan. It is difficult to find steady employment in other areas, and temporary employment will not enable you to get a work permit. There are, however, companies that hire English speakers for non-teaching positions. Some publishers, for instance, employ writers or editors for their English-language magazines, newsletters or catalogues. Before accepting an editing job, ask exactly what it entails: is it mainly checking for grammar and spelling mistakes, or rewriting something that is barely intelligible?

Salaries offered for these types of jobs tend to be lower than for teaching. Ensure that the pay is commensurate with the work you are doing.

Other job possibilities include audio recording for language companies or working as a reporter or copy editor for a local English newspaper/magazine. Previous work experience in journalism and knowledge of Mandarin are assets for such positions, but local English newspapers often hire copy editors who are not proficient in Mandarin.

Very few companies are willing to hire foreigners on a full-time basis and sponsor them for a work permit. Companies may offer foreigners a contract for a specific project, which may last half a day to a full weekend. This practice is illegal. Canadians considering such employment should be fully aware of the consequences of working illegally on a visitor visa without a valid work permit (see "Visa matters").

Foreigners have also been known to enrol in Mandarin training schools that provide them with official standing as students. They then teach unofficially. It is illegal for foreign students who enter Taiwan as students of Mandarin to teach while attending classes. Should the Taiwanese authorities discover that a Canadian is working illegally, the consequences may include a fine, detention, deportation or banishment from Taiwan.

Canadians who wish to work and study in Taiwan while travelling may contact the Taipei Economic and Cultural Office (TECO) in Ottawa, Toronto or Vancouver for information on the Youth Mobility Program's Working Holiday Visa.
Teaching qualifications
In Taiwan, teaching qualifications are governed by the Ministry of Education, while the Ministry of Labor is responsible for issuing work permits to foreigners.

To obtain a work permit to teach in Taiwan, you must:
be a college or university graduate – diplomas need to be authenticated by the Taipei Economical and Cultural Office (TECO) in Canada;1
have teaching qualifications, such as a Bachelor of Education (B.Ed.) or TEFL certificate – all transcripts should be provided;2
be at least 20 years of age or older;
be a native speaker of the language you will teach;
obtain a medical certificate signed by a doctor – requirements to be confirmed by the employer; and
obtain a certified criminal record check from the RCMP – authenticated by TECO.3
Canadians employed as English teachers in Taiwan are often assisted by employers in obtaining the required work permit and resident visa (ARC). It is important to know beforehand what assistance your employer will provide to avoid legal problems during your stay. See "Visa matters" below for information on obtaining a resident visa.

1 Holders of a university degree who intend to teach in a cram school (buxiban) are not required to have teaching qualifications, but must meet all other requirements (3 to 6) listed above.

2 TESL (Teaching English as Second Language) and TEFL (Teaching English as Foreign Language) certificates are also recommended, but do not substitute for a university degree or college diploma.

3 Canadians already residing in Taiwan can obtain an RCMP Criminal Record Check by requesting the RCMP fingerprint form in person or by mail. The form is completed by the applicant at a local police station in Taiwan, then mailed directly to the RCMP in Canada. This form must also be authenticated by the TECO in Canada. This service is not available in Taiwan.
Visa matters
To work legally in Taiwan, you must have a work permit that specifically states you are permitted to accept employment. Obtaining permission to work can be a challenge. You cannot apply for a work permit without assistance from your potential employer.

Working in general, teaching English without a work permit and working at a different employment address than that specified on the ARC (Alien Resident Certificate) are considered illegal. The Labour Bureau conducts random checks at buxibans and schools from time to time. The consequences of working illegally include fines, immediate deportation and travel bans.

Foreigners are often recruited from abroad. When they arrive in Taiwan, they discover that their prospective employer is not able to arrange for a work permit and resident visa, leaving them stranded and in debt. Contractual disputes, including claims for losses arising from misrepresentation of the terms and conditions of employment, can only be dealt with through the Bureau of Labour Affairs of the municipal government where the employer is located (e.g. the cities of Taipei, Taichung or Kaohsiung). The bureau will seek mediation with the employer. If this approach cannot resolve the matter, the only recourse is the local legal system.

Foreigners who require more information on labour laws or wish to report unfair treatment can call a labour issues hotline. The number in Taipei is 011-886-2-2550-2151.

Canadians seeking work in Taiwan should check the credibility of a prospective employer with the nearest Taipei Economic and Cultural Office (TECO) in Canada or the Bureau of Education of the municipal government where the employer is located (see "Sources of Information"). The Bureau of Education will in turn contact the Ministry of Education as required.
Visa Exemption Program
Canadian passport holders do not require tourist or business visas for stays of up to 90 days. To be eligible for the visa exemption program, your Canadian passport must remain valid for at least six months from the date of entry, and a confirmed return ticket must be presented. If you do not have at least six months' validity remaining on your Canadian passport, immigration officials at the Taiwan airport where you land will refuse your entry and deport you back to the port of your last embarkation.

Once in Taiwan, Canadians may extend their stay for an additional 90 days by placing a request with the Taiwanese Bureau of Consular Affairs. The request must be for non-employment or non-residency purposes and must be made 30 days prior to the expiration of their current 90-day visa-free entry.

Canadians entering Taiwan under the visa-exemption program are not permitted to accept employment without prior approval from the Taiwanese government. Persons whose application for employment is approved must leave Taiwan to acquire a resident visa at a Taiwan Economic and Cultural Office (TECO) abroad.
Resident visa
Canadians intending to stay more than 180 days in Taiwan for the purpose of employment, business, a family visit, studies, missionary work or other approved activities may apply for a resident visa. The application and required documentation must be filed at the nearest Taipei Economic and Cultural Office (TECO).

Canadian holders of resident visas can make multiple entries into Taiwan. The re-entry permit must be obtained from a service centre of the National Immigration Agency. For more information, call 011-886-800-024-111 (in Canada) or 0800-024-111 (in Taiwan).

To apply for a visa to legally teach in Taiwan, Canadians must meet the criteria listed under Teaching Qualifications (above).
Alien resident certificate
Canadians holding a resident visa must apply for an Alien Resident Certificate (ARC) at a service centre of the National Immigration Agency within 15 days of arrival in Taiwan or within 15 days of issuance of the resident visa. By law you are required to carry the ARC card with you at all times. ARC holders are no longer required to apply for an exit permit prior to their departure from Taiwan, but they are required to apply for a re-entry permit prior to leaving Taiwan.
Working legally in Taiwan
In order for you to work legally in Taiwan, your employer must arrange a work permit for you. This can take months to process. The resident visa is granted on condition that you perform the employment for which it is issued. If you terminate your employment for any reason, your employer is required to report this to the police and all necessary paperwork must be processed before you can work for someone else. It is illegal to work for an employer other than the one who sponsored you for your work permit.

Regulations governing foreign workers and alien residency change frequently. For confirmation of regulations and information about fees, contact the nearest Taiwanese diplomatic or consular office if you are outside Taiwan, or an immigration office if you are in Taiwan.
Legal problems
It is your responsibility to understand local laws and obey them. Some foreigners encounter serious legal problems with the Taiwanese immigration authorities because:
they accept employment as English teachers while in Taiwan on a visitor visa; or
they agree to teach part-time or teach private classes for an employer other than the one who sponsored them.
According to the Employment Service Act, foreigners working without an employment permit while in Taiwan will be fined and compelled to leave the country without delay. Employers will also be fined.
Contracts and working rights
Canadians occasionally have contractual disputes with their Taiwanese employers. In Taiwan, a contract is sometimes viewed as an infinitely flexible working agreement, subject to further negotiation. Keep in mind that an oral agreement with an employer can be considered just as important as a written contract. It benefits all parties to have a clear understanding of their contractual obligations.

Foreigners who find themselves in disputes related to contracts or working rights can apply for mediation or help from a municipal foreign worker consultation service center, local labour authorities or independent organizations. For details, see the National Immigration Agency's Information for Foreigners page.
Housing
A non-Mandarin speaker searching for low-cost accommodation should consider sharing an apartment with another foreigner or an English-speaking Taiwanese. In Taipei, you can check several notice boards on Shida Street or at the Mandarin Training Centre of the National Taiwan Normal University. For those able to speak some basic Mandarin, the non-profit housing service called Tsui Mama is a good option. At a nominal charge, Tsui Mama offers listings of apartments for rent around the city to suit all budgets. Tsui Mama is located at 76 Wenchou Street.

Although living in central Taipei is exciting and convenient, cheaper options are becoming available in more distant locales now that the subway serves areas such as New Taipei City. Most convenient is to share an apartment with someone who has been in Taiwan for some time. You may be asked to sign a contract of a few months and give a deposit, or pay in advance by the month.

Newcomers renting an apartment themselves generally have to sign a one-year lease and give at least one month's rent as deposit, which they will forfeit if they don't complete the lease. Utilities such as electricity, water and gas are usually paid separately. Apartments come both furnished and unfurnished. A good place to shop for inexpensive furniture in Taipei is on Chungking South Road, close to the intersection of Tingchow Road. Only a resident of Taiwan can apply for a telephone line, so you will need to find a Taiwanese or a foreigner with an ARC to sign for you.
Income tax
Any person who receives income from a source within Taiwan must pay Taiwanese income tax. The tax year runs from January 1 to December 31. Foreign taxpayers are divided into two categories: non-residents and residents. Tax rates are determined by length of stay, not the type of visa held by an individual.

Canadians working abroad may also be subject to Canadian taxes. They should consult our page Taxation for Canadians travelling, living or working outside Canada before accepting a job abroad.
Non-residents
A non-resident who works in Taiwan less than 90 days within any tax year will have income tax withheld by the employer (for remuneration received in Taiwan). The individual does not have to file an income tax return. Remuneration paid outside of Taiwan for services rendered in Taiwan will not be subject to Taiwanese tax.

A non-resident who works in Taiwan for more than 90 days but less than 183 days within any tax year will have income tax withheld by the employer (for all remuneration, whether paid inside or outside Taiwan). The individual must file an income tax return. Normally, the extension of any visa beyond 90 days will require a certificate from the Tax Bureau stating that such income taxes have been paid.
Residents
A resident who works in Taiwan for 183 days or more within any tax year must pay income tax at a progressive rate for all income earned in Taiwan, whether this income is actually paid in Taiwan or not. The income tax to be paid is on net income, which allows the taxpayer to qualify for exemptions such as for dependants or certified charitable donations, and a wage earner's deduction. The taxpayer's period of residence in Taiwan is calculated from the dates of entry and exit in the individual's passport. For multiple entries and exits, the days of residence in Taiwan are added up to determine a total period of residence.

For more detailed information, contact:

Taipei National Tax Administration
2 Zhonghua Road, Section 1
Wanhua District
Taipei 10802, Taiwan
Tel.: +886-2-2311-3711 Ext. 1116
Fax: +886-2-2389-1052
Medical insurance
Foreign residents holding a valid Alien Resident Certificate for more than four months are eligible to join the National Health Insurance (NHI) program. Those who join the program contribute monthly premiums and are eligible for all NHI-covered benefits. The program is inexpensive and offers very broad coverage. However, it would not fully cover the costs of treating a serious medical problem. Medical bills, especially for hospital stays, can mount up very quickly. Detailed information on the NHI program can be found on the Bureau of National Health Insurance website.
We strongly recommend that Canadians take out additional medical insurance through either Taiwanese insurance companies or Canadian providers prior to arriving in Taiwan.
The status of Canadians in Taiwan
Foreigners stand out in Taiwan. You may find everyone around you watching what you do with great interest, especially outside large metropolitan centres. Despite rapid social change in the last decade, Taiwanese society is conservative in many ways. You should always remain sensitive to cultural norms and expectations.
Educational values
Most schools are privately owned, with parents paying tuition and exerting substantial influence on curriculum and school policies. A great deal of focus is on academic performance, even at a very young age. Sometimes a student's poor performance is seen as the result of shortcomings of the teacher. The main goal of much of ESL programming is for the child to quickly demonstrate the ability to say something in English; little emphasis is placed on genuine learning. For example, young students sometimes memorize a book instead of actually learning how to read.

Taiwanese students are usually respectful in class, but may not always be so with a teacher who is a foreigner. Problems can arise because Taiwanese children are unfamiliar with the more relaxed and open style of foreign teachers. To ensure class discipline, it is important at the outset to explain your expectations and the rules that students must follow. Support staff should be available to help when a Chinese-language speaker is required.
Adapting to Taiwanese society
Living in Taiwan can be exciting and stimulating, but it can also be confusing, frustrating, even overwhelming. Culture shock is a condition that affects even experienced overseas residents. It's a form of psychological stress experienced when familiar cues or patterns are no longer present. These cues include the many ways in which we orient ourselves to the requirements of daily life. The lack of familiar cues may cause discomfort, often accompanied by irritability, resentment, homesickness and depression. Culture shock may be mild or severe. It may be fleeting or last several months. Most foreigners will experience culture shock at some point or another while travelling or living overseas. It is important to be familiar with its symptoms, which include:
sleepiness
apathy
depression
compulsive eating and drinking
homesickness
exaggerated yearning for all things and friends back at home
negative stereotyping of Taiwanese people
a decline in efficiency
recurrent minor illnesses; and
obsession with cleanliness or health.
Symptoms may be aggravated by a lack of proper exercise, rest and/or poor diet. The symptoms tend to surface within the first three to six months after arrival, when the novelty of a new place begins to fade and settling in becomes imperative. Consider the following as a means to ease the adjustment process:
Admit frankly that these stresses exist. It's not a sign of weakness to admit that you feel uncomfortable, tense or confused.
Recognize that adjusting is hard work. View change as a challenge instead of a threat. Don't expect everything to fall into place immediately.
Establish a routine as soon as possible. A routine for eating, sleeping and personal time provides an anchor, a stable base, at a time when everything else is in flux.
Make your home a place that is comfortable and plan special times for yourself in Taiwan. It's not enough just to look forward to vacations.
Learn the rules of living in Taiwan. Try to understand how and why the Taiwanese do things the way they do. Taiwanese behaviour and customs are different from your own but they are neither better nor worse than what you are used to. Don't try to change everybody else; it's easier to adjust yourself.
Learn some Mandarin. Learning even a little Mandarin makes your life in Taiwan a lot easier, and is always appreciated by Taiwanese. The best time to start is at the beginning of your stay, as many foreigners lose momentum and end up living in Taiwan for years without speaking a word of Mandarin. In Taipei, there are several universities and private institutions offering Mandarin classes.
Get involved and meet people. Becoming involved in activities you are interested in is a good way to meet people with similar interests. Reach out and befriend both Taiwanese and foreigners. Start exploring the part of town where you live, the environs of the city and the scenic attractions of Taiwan. A good way to meet Taiwanese and practice some Mandarin is to check out notice boards where there are messages from Taiwanese university students looking for language exchange. The usual practice is to spend an hour speaking English and then an hour speaking Mandarin.
Keep in touch with friends at home.
For more information, see Coping with culture shock.
How the Canadian Trade Office in Taipei can help
There are numerous ways in which Canadian government offices can help you when you are abroad. However, there are also limitations as to what they can do for you.

For instance, consular officials can:
assist you with notarial services;
assist you with the replacement of a lost, stolen, damaged or expired passport;
provide you with a list of local lawyers; and
provide you with a list of telephone numbers of various Taiwanese government agencies.
However, consular officials cannot:
provide you with legal advice or recommend any specific lawyer;
obtain a criminal record check on your behalf;
acquire local permits or licences on your behalf, including foreign visas or work permits;
investigate, certify or vouch for perspective employers; or
help you find accommodation.
See About consular services for a more complete list of services available to Canadians abroad.

We encourage all Canadian citizens in Taiwan to sign up for the Registration of Canadians Abroad service. Registration allows the Government of Canada to contact you in case of an emergency abroad or in Canada.
Taiwan sources of information
Ministry of Labor

Taiwan Government Information

Taiwan Tourism Bureau

Teaching English and Living in Taiwan
Education Bureau of Taichung City Government
No. 36, Yangming St., Fengyuan District
Taichung City 420018 Taiwan
Tel: +886-4-2228-9111

Department of Education, Taipei City Government
8F North Wing, 1 Shih Fu Road, Xinyi District,
Taipei, Taiwan
Tel.: 886-2-2720-8889 or 2720-8898
Fax: 886-2-2723-9730

Education Bureau, Kaohsiung
No. 2 Si Wei San Road
Kaohsiung, Taiwan
Tel.: 886-7-337-3116
Fax: 886-7-331-4911

Ministry of Education
5 Jhongshan South Road
ZhongZheng Dist,
Taipei City 10051,Taiwan
Tel.: +886-2-7736-6666

National Police Agency, Ministry of the Interior
No. 7, Sec. 1, Jhongsiao E. Road, Jhongjheng District
Taipei City 10058, Taiwan (R.O.C.)
Tel: 02-2321-9011

Taipei Economic and Cultural Office, Canada
Suite 1960, World Exchange Plaza
45 O'Connor Street
Ottawa ON K1P 1A4
Tel.: 613-231-5080
Contact Us

Taipei Economic and Cultural office, Toronto
151 Yonge Street, Suite 501,
Toronto, Ontario, M5C 2W7
Tel: 416-369-9030
Contact Us

Taipei Economic and Cultural Office, Vancouver
925 West Georgia St., Suite 2008
Vancouver BC V6C 3L2
Tel: 604-689-4111
Contact Us


Publication information
Published by Global Affairs Canada
Information in this publication is readily available for personal and public non-commercial use and may be reproduced, in part or in whole and by any means, without charge or further permission from Global Affairs Canada. We ask only that:
Users exercise due diligence in ensuring the accuracy of the materials reproduced;
Global Affairs Canada be identified as the source department; and
the reproduction not be represented as an official version of the materials reproduced, nor as having been made in affiliation with or with the endorsement of Global Affairs Canada.
All information in this publication is provided on an "as is" basis without warranty of any kind, either expressed or implied. Global Affairs Canada makes all reasonable efforts to ensure that the information contained in this publication is accurate. The reader is also encouraged to supplement this information with independent research and professional advice.

This publication is available in alternative formats upon request.

To obtain more information or free copies of this publication, write to:

Public Enquiries Service
Global Affairs Canada
125 Sussex Drive
Ottawa, ON K1A 0G2
Tel.: 1-800-267-8376 (in Canada) or 613-944-4000
E-mail: info@international.gc.ca

We would like to receive your comments on this publication. Write to us at the address above or e-mail us at travel@international.gc.ca.
Report a problem on this page
Date modified: