Travel toolkit
As you plan your travels to visit family and friends or to vacation in your favourite spot, it is important to know what to do to make sure that your trip goes off without a hitch. Here is a toolkit full of tips to make your travel a little less stressful.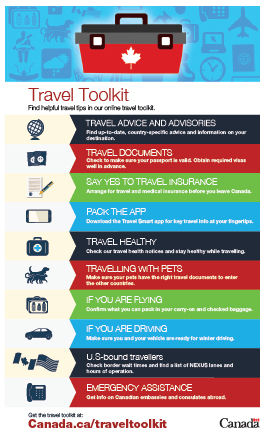 On this page
Travel tips
Travelling by plane
If you are planning to fly to your destination, then Fly smart! Read our Fly Smart guide and review our Air travel section for tips on booking your flight and breezing through airport security. If you are not sure what you can pack in your luggage, use our quick searchable guide to find out what you can carry in your carry-on or checked baggage.
Before you leave home or while you are travelling to the airport, save time by checking the Airport security screening wait times. Enjoy your flight!
Travelling with children
Whether your children are travelling with you or on their own, prepare for their journey well before they leave home. Visit our Children and travel and Tips for healthy travel with children pages for the information you need to make sure they have a safe and happy trip.
Border Services Officers watch for missing children and may ask detailed questions about any children travelling with you. If you share custody of your children, carry copies of your legal custody documents, such as custody rights. If you share custody and the other parent is not travelling with you, or if you are not the parent or legal guardian, we recommend you carry a consent letter to provide authorization for you to take them on a trip and to re-enter Canada.
A consent letter must include the custodial parents' or legal guardians' full name, address and telephone number. We strongly recommend that you have the letter witnessed by a notary public, so that border officials will be less likely to question its authenticity, especially if you are going on a long trip and want to avoid a delay.
If there is no consent letter, the border services officer may ask additional questions to determine the relationship between the adult and the travelling child.
When travelling in a group of vehicles, parents or guardians should arrive at the border in the same vehicle as their children or any minors they are accompanying.
For more information, see International Child Abduction: A Guide for Left-Behind Parents.
A lap is not the best place for a small child when travelling by aircraft, especially if there is turbulence or an accident. Children under two should fly in their own seat in an approved, aircraft-compatible car seat. Contact your airline before you travel to make sure your child's car seat will work on the aircraft and to learn about their car seat policies.
Travelling with a disability
If you need any services from your transportation company, give them as much notice as possible. Companies are expected to arrange most services for you when you give them at least 48 hours' notice. With less than 48 hours' notice they should make a reasonable effort to help you.
If you are planning to travel abroad, you should research the services available for travellers with disabilities in your destination country by contacting its government office in Canada.
For more information, read Take Charge of Your Travel: A Guide for Persons with Disabilities.
Travelling to another country
Be prepared
Find up-to-date, country-specific advice and information on your destination in our Travel Advice and Advisories. Don't forget that when you are travelling in another country you are subject to its laws, which are often different than those in Canada. You are expected to follow the laws of the country you are visiting, just as you and others are expected to follow Canadian laws in Canada.
It is illegal to enter or leave Canada with cannabis, even if you have a medical document from a health care provider or are going to places where it is legal or decriminalized, such as Amsterdam, Netherlands, or some U.S. states such as California, Colorado or Washington. Taking cannabis or any product containing cannabis across the Canadian border can result in serious criminal penalties both at home and abroad. Documentation that authorizes you to possess cannabis for medical purposes applies only in Canada. Visit Cannabis and international travel for more information.
Travel documents
Make sure your passport is valid and not damaged. Do you need to renew it? Check the exit and entry requirements for your destination country. Do you need a visa? Do you need proof of vaccination?
If you are a dual citizen, use your Canadian passport when you are travelling outside Canada. When you are flying to or transiting through Canada by air you need a valid Canadian passport to board your flight to Canada. See Dual Canadian Citizens need a valid Canadian Passport for more information.
To enter the U.S. you must have a passport, a U.S. Passport Card (U.S. citizens only), Enhanced Driver's Licence or a Trusted Traveler Program card (NEXUS, Global Entry or FAST).
Say yes to travel insurance
You should always purchase travel and medical insurance before you leave Canada. The Government of Canada will not help pay for your medical treatment or your ticket back to Canada. Don't let unforeseen bills ruin your vacation and empty your wallet. For more information please visit: Travel insurance.
Register with us
Register your travel plans with our Registration of Canadians Abroad service either online or through our Travel Smart app. Registering for this free service ensures that we can reach you quickly in case of an emergency abroad or a personal emergency at home.
Travelling in a group of 10 or more? Send us an email and our team will assist you.
Pack the app
Our Travel Smart app keeps you in touch with Canada by enabling you to:
access up-to-date travel information and advice on over 200 destinations worldwide through our Travel Advice and Advisories
sign up for our Registration of Canadians Abroad service
find continuously updated border wait times at Canada-U.S. border crossing posts listed by distance from your location
find contact information for Canadian embassies and consulates serving your destination
connect to Travel.gc.ca's social media accounts, where you can ask questions, share travel advice and learn even more about travelling smarter abroad. The Travel Smart app is available for download from the Apple App Store or from Google Play.
Travel healthy
If you are planning to go on a trip, make sure you take precautions to protect your health. Consult our travel health notices for advice on how to stay healthy while travelling in your destination country.
See a health care provider or visit a travel health clinic preferably six weeks before you leave to make sure your vaccinations are up to date and for other advice on how to protect yourself from illness and injury.
The most common illnesses among travellers are generally caused by eating food or drinking beverages contaminated by bacteria, parasites, or viruses. Always take precautions with food and water to avoid getting sick. Many diseases spread by insects can be prevented by taking precautions against insect bites.
Pack an extra supply of your prescription or over-the-counter medications in case you are away for longer than expected. Read Travelling with medication and Travelling with a medical device for more information.
Seasonal flu
Flu season extends right through the holidays and millions of Canadians catch the flu every year. The flu is caused by a virus that passes easily from person to person and symptoms often include fever, chills and cough, with sore throat, headache and aching muscles. Be sure to take steps to protect yourselves and your loved ones by getting the flu shot, cleaning your hands frequently, staying home when sick and coughing and sneezing into your arm, not your hand. If you have the flu, rest and fluids help you get well faster.
Shopping outside Canada
If you are planning to shop while you are out of the country, don't forget to read Bringing Consumer Products into Canada for information on consumer products that do not meet Canadian safety or regulatory standards and that are banned or may be detained at the Canadian border.
Some countries have tax-rebate programs for visitors. If you have problems claiming your rebate, the Government of Canada cannot help you.
Be sure to use the Canada Border Services Agency's handy Duty and Taxes Estimator tool to see what you might have to pay on purchases when you return to Canada.
If you are crossing the border back into Canada, be sure to understand your exemption limits.
If you are shopping for gifts for loved ones, don't forget to check what you can bring back. And remember that the holiday gifts you receive may not always be safe by Canadian standards
And finally, if you are bringing parcels across the border that aren't yours, be sure to know their contents and value as you are responsible for anything that is in your possession.
Canada–U.S. travel
NEXUS program
Travel often? Apply for NEXUS!
NEXUS members can avoid long lineups and save time by using automated self-serve kiosks at airports and dedicated vehicle lanes at land border crossings. When arriving in Canada by boat, members can report by phone to a Telephone Reporting Centre.
NEXUS members receive expedited security clearance at major Canadian airports and at over 180 participating U.S. airports.
NEXUS members also receive U.S. Trusted Traveler Global Entry (GE) program privileges, including use of GE kiosks when entering the U.S from anywhere in the world.
Visit nexus.gc.ca for more information.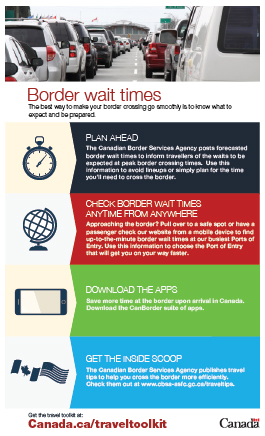 Border wait times
Every year, millions of Canadian citizens and visitors travel across the Canada–U.S. border. If you are prepared and know what to expect, your border crossing will be a better experience. Make your wait at the border as short as possible by checking the Border wait times table, which is updated hourly and displays wait times for reaching a primary inspection booth at 26 of our busiest land border crossings.
Download the CanBorder – Border Wait Time app on your smartphone or tablet to help you plan ahead.
Coming back to Canada
All good trips must come to an end, and you want to arrive home rested and refreshed. Make your return to Canada as easy as possible by visiting our What you can bring home to Canada and Be sure...declare everything web pages.
If you become sick (e.g. fever, shortness of breath) and you are still sick while travelling home to Canada, tell a flight attendant or cruise staff, or a border services officer when you arrive.
If you are sick after you return to Canada or if you were sick while you were away, see a health care professional and tell them the countries you visited. Describe your symptoms to the health care professional before you make the appointment. Some illnesses, such as measles, are highly contagious, so he/she might arrange to see you without exposing others.
If you need help
If you are outside Canada and need emergency assistance, call the nearest Canadian embassy or consulate. You can also call or email our Emergency Watch and Response Centre, which is available 24 hours a day, 7 days a week.
The Government of Canada provides a range of consular services to Canadians who may find themselves in a difficult situation abroad.
The Canadian Consular Services Charter outlines the services available to Canadians abroad and provides a host of tools to help you to travel safely. It is important to know that there may be circumstances in which the Government of Canada will be less able to help you.
Report a problem on this page
Date modified: