Media Kit
The Honourable Diane Ablonczy, Minister of State of Foreign Affairs (Americas and Consular Affairs), was in Toronto today to announce the launch of the newly revamped Travel.gc.ca, Canada's official "one-stop shop" for international travel information.
Our virtual media kit includes handouts and downloadable images about the travel website and Travel Smart mobile app. Should you have any questions please contact us.
You may also find additional resources through our wide range of publications.
HANDOUT
WEBSITE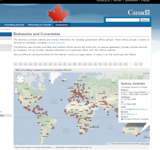 TRAVEL SMART MOBILE APP